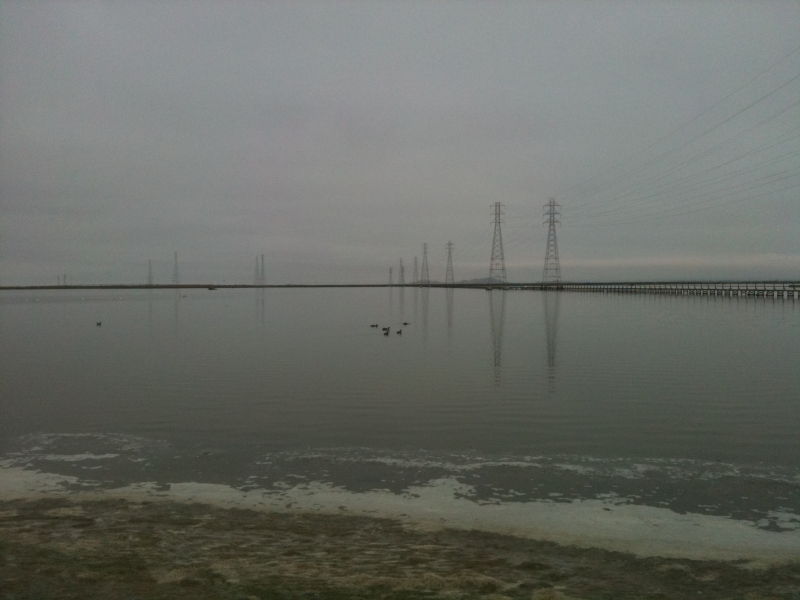 I woke up just before 5:30 am yesterday. I had coffee, checked the news and email and was ready to get out for a long run. This has been a pale summer, a summer that has yet to get over the hangover of spring and it is already fast approaching its fall. The early morning was gloomy, the sun deciding to hide itself rather than light up such a sorry looking day. There were not many people on the streets and once I hit Stevens Creek Trail, I passed but a handful of early morning walkaholics and jogaholics. The creek itself is dry almost till you get to the bay. I saw a crane and a few pelicans. A flock of geese silently flew in formation. The tide was out, exposing the salts and there was a marshy smell as I ran by the waters of the bay at Shoreline Park. By the time I returned, an hour and 20 minutes later, Shanthala and Maya were up. Finally, after over almost 3 years, I did an early morning run.
Till about three years back, every Sunday morning, I got out for a long run, usually a half marathon. I'd leave early enough so that I'd be back just as Shanthala was waking. That way, I had exercise out of the way before our day together began and we could spend time together without brooding over when I could get a run in. My legs had gotten used to running a half marathon distance without feeling exhausted the rest of the day. My early morning runs got into endangered state after Maya was born when caring for her became the primary goal. Maya was not a happy camper if she awoke in the middle of her sleep and didn't find me there. By the time she was consoled, Shanthala would have lost her sleep, making her even more sleep deprived. So, I gave up my early runs.
When I first started running long – greater than 8 miles – I encountered unfamiliar sensations. My nipples would be chafed to the point that they were sore and hurt if I wore loose shirts or the spray from the shower hit my chest. I started taping my chest with cotton and band aid to avoid the problem. My toes would be calloused and discolored, like the finger tips of a guitarist, despite wearing shoes that were relatively loose-fitting. Running long without having pooped first upset my stomach and bowels for the rest of the day. But nothing compared to the high that I got at the end of the run. I felt my face was aglow and I felt kind, loving and willing to be of service. I felt incredibly relaxed, especially if I hadn't run hard.
Runners high is a well known phenomenon. The popular hypothesis for this euphoric feeling was that endurance exercise released endorphins, a neurotransmitter. Discovered by Solomon Snyder and Rabi Simantov in calves in 1974 and named by Eric Simon, endorphin means "morphine produced naturally in the body". Just like morphine, they're able to suppress pain, act as an analgesic and produce feelings of well-being.
Runners' high may have evolved because of possibly adaptive benefits. According to a blogger, NeuroKuz: "A possible explanation for the "runner's high," a feeling of intense euphoria associated with going on a long run, is that our brains are stuck thinking that lots of exercise should be accompanied by a reward. Perhaps our ancestors who were able to achieve the runner's high while hunting for food ran more often than those who could not achieve the high. These 'high-achievers' (no pun intended) would gather more food as a result of their enhanced motivation, and would be more fit to pass on their genes to the next generation."
But runner's high was also considered a myth, hard to prove. As the authors of a paper in the British Journal of Sports Medicine, titled "Endocannabinoids and exercise" put it: "As is the case with all phenomena related to consciousness and its alterations, the runner's high is a private experience, and the evidence for its existence rests predominantly on verbal report. Scientific inquiry into the phenomenon has been restricted even further because of its ephemeral nature. For example, the runner's high is not experienced by all runners, and this experience does not occur consistently in runners who have experienced it previously. These observations have left laymen and scientists wondering why and under which conditions the runner's high occurs, or whether or not it exists at all."
Furthermore, they wrote: "In recent years, several prominent endorphin researchers—for example, Dr Huda Akil and Dr Solomon Snyder—have publicly criticised the hypothesis as being ''overly simplistic'', being ''poorly supported by scientific evidence'', and a ''myth perpetrated by pop culture.''
In that paper, the authors speculated that endurance exercise stimulated the endocannabinoid system that was responsible for the runners' high, not endorphins. Using male student volunteers running on a treadmill or cycling for 50 minutes at 70-80% of maximum heart rate, they found dramatic increases in a neurotransmitter called anandamide in the blood plasma. This was back in 2004.
Then in 2008, German researchers at the University of Bonn led by a Dr. Henning Boecker had used PET scans on 10 runners before and after a run to show that indeed endorphins were very likely produced during running and that they were attaching themselves to areas of the brain such as the limbic and prefrontal areas. According to the NYT article that reported the news: "The limbic and prefrontal areas, Dr. Boecker said, are activated when people are involved in romantic love affairs or, he said, 'when you hear music that gives you a chill of euphoria, like Rachmaninoff's Piano Concerto No. 3.' The greater the euphoria the runners reported, the more endorphins in their brain."
The NYT article includes quotes the same two researchers, Dr. Huda Akil and Dr. Solomon Snyder, quoted in the British paper. According to NYT:
"Impressive," said Dr. Solomon Snyder, a neuroscience professor at Johns Hopkins and a discoverer of endorphins in the 1970's.

"I like it," said Huda Akil, a professor of neurosciences at the University of Michigan. "This is the first time someone took this head on. It wasn't that the idea was not the right idea. It was that the evidence was not there."
Naturally produced morphine or cannabis, I can attest to experiencing what I thought of as runners' high several times during my running life. Today morning was no exception.
P.S: All this study was triggered by an entry last week at the blog, Addiction Inbox, titled 'Cannabis Receptors and the "Runners High"'.