We were socked with two big storms over the past two weeks. On the tail end of the first storm, we celebrated Maya's birthday for the first time in the US. We hosted the largest party we've ever held at our house. Some 20 odd people including kids showed up. Overall, the party was a success I'd like to think.
The next day we went for a hike. The air was crisp and fresh after the almost four days of continuous rain. Maya had been demanding that we take her to climb a hill and so we eventually did. Gray rain clouds still clung to the sky, but co-mingled with snow white clouds and great patches of blue sky. The whole thing was quite atmospheric (pun intended).
After I got the iPhone, I hardly take the regular camera any more. The iPhone does a pretty good job most of the time. It is only in really low light conditions that I have difficulty getting a good picture (the picture is too grainy). I purchased a couple of apps a few months back and that coupled with a free app enhance the photographs taken with an iPhone quite well.
The first one is called Pro HDR. It simplifies the technique of taking HDR pictures. HDR (high dynamic range) is a technique whereby you combine two photos taken with different exposures to obtain a single photo that uniformly lights all the subjects. For example, if you're shooting against the sun, the foreground is quite dark while the background is quite well lit. If you place the focus on making the foreground bright in such a condition, the background is too bright, a complete washout. But our eye can see both the background and the foreground quite well. To affect the same illusion, a HDR image is one that is created by combining two such images, one with the foreground dark and the background correctly lit and another with the foreground properly lit and the background a complete washout, to produce a single image that has a high dynamic range of illumination.
Pro HDR is one of the several HDR programs available for the iPhone. I picked it up on sale and because it was one of the higher rated HDR apps. With it I've captured several gorgeous pictures. Here is one taken on the hike with Maya up Rancho San Antonio County Park. Compare it with a similar photo taken without the HDR program.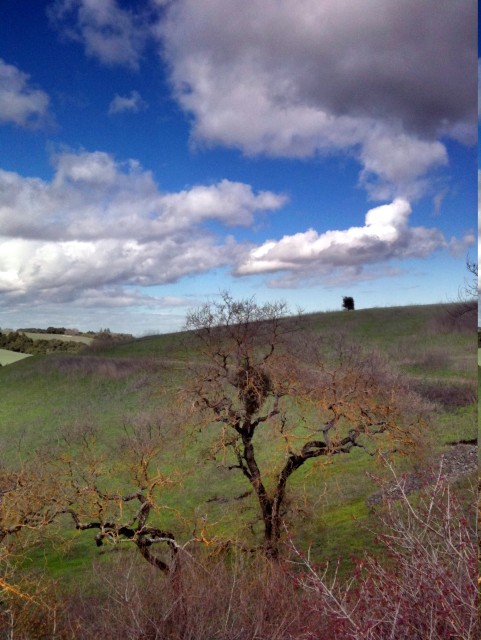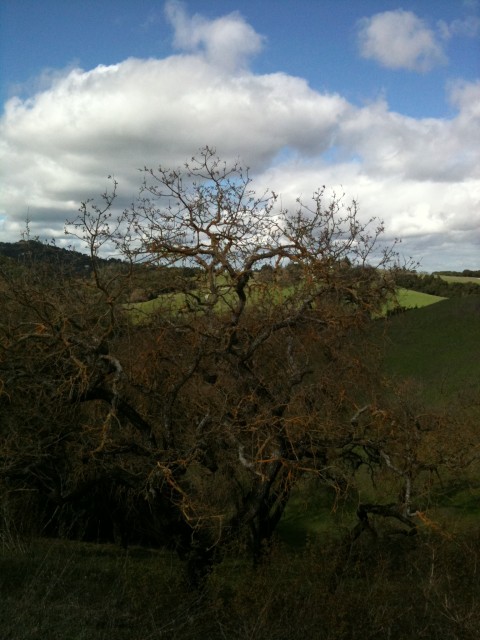 Here is another good looking picture taken with the HDR program.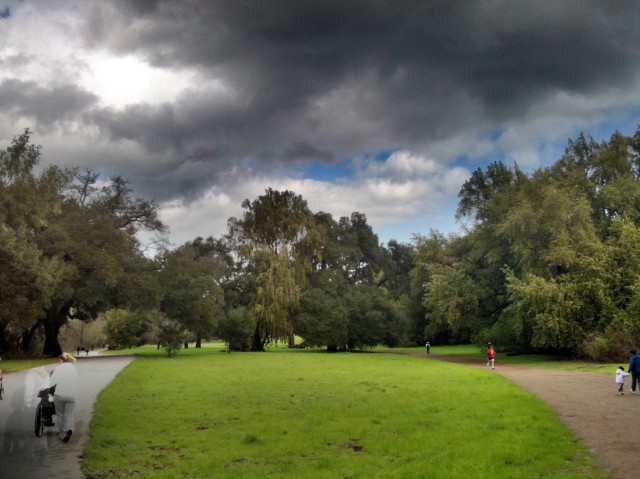 Notice the ghost at the far left, caused by an object that moved between the two differently exposed pictures.
Another program that I purchased is called 360 Panorama. This allows you to shoot panoramic pictures quite easily with an iPhone. When I had gone to my sister's graduation, I was impressed by a camera that my cousin had, the Sony Nex 5. He just pressed the shutter and fired away as he swung the camera in an arc across the auditorium. The camera automatically composed a panorama out of these pictures. Compare that to the panorama mode in most cameras that I had seen till then with the panorama stitch assist mode. A few days later I ran into the 360 Panorama app which does pretty much what the Nex did, except that it ran on my iPhone and cost $1.99 (yes, less than $2).
Here is a panoramic picture taken with this program.



As you can see, the picture is not that great because of the poor light conditions. I've come to realize that the more professional cameras are more forgiving of adverse light conditions and poor photographers while the cheaper ones or like the one with the iPhone produce great pictures under a limited range of lighting conditions.
Hardly had the first storm abated than the second storm hit. This one came with far greater expectations than the first. A cold front from Alaska was bringing brrrr! temperatures. Snow was expected, snow so rarely seen in this part of the world. The excitement built up so much that a website called  IsItSnowingInSFYet.com sprang up. The local paper carried the headlines:
"'Coldest storm of season' hits Bay Area; snowball fights in San Jose
still possible".
Sure enough, the temperatures dropped to record busting lows. Oakland and San Francisco Airport had their lowest temperatures recorded for the month (34 and 35 degrees Farenheit, I know nothing Arctic, but hey, this is Silicon Valley). Nearby Mountain View and San Francisco had temperatures that tied with the existing record. But no snow came. The local paper this time said: "The much-ballyhooed Great Blizzard of 2011 was more like the Great Fizzle."
But catching a break in the rain on a slow work day, I went for a trot on Friday morning. It was quite cold, but after a mile or so, I had warmed up enough to not notice it. I wanted to see Stevens Creek in spate.
The creek was a roar compared to its usual silent flow. In places where the path descended to the level of the creek, the creek looked like it'd overflow. The creek was a rich, chocolate milkshake brown, frothing white as it tumbled over rocks and sudden changes in gradient.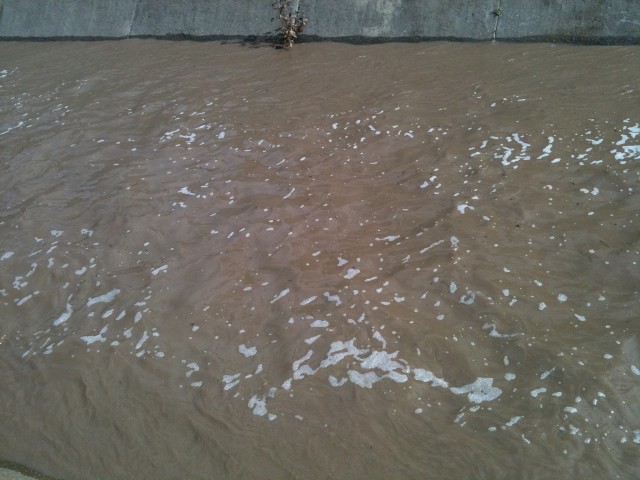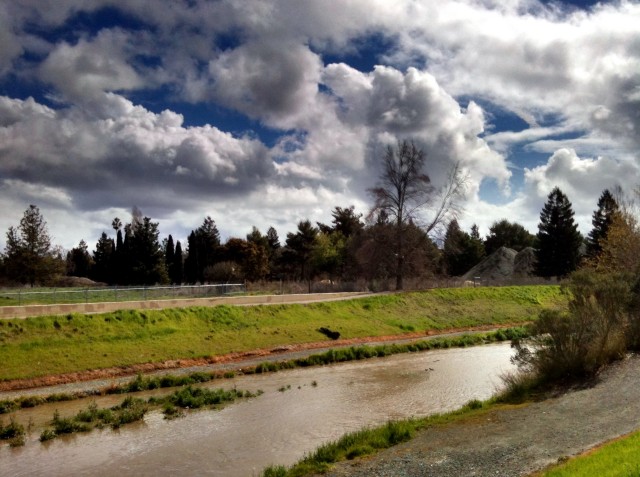 The second picture above is another image shot with the HDR app.
As I ran down the trail, my mind raced over some news that I had been browsing in the past few days. The East Coast of the US had been hit with one of the worst storms in its recorded history, Australia had suffered devastating floods. I remembered that my friend at the non-profit that I work with had titled an essay on how weather is affected by global warming as: "How the 100 Year Flood Became An Annual Event". If that sounds too dramatic, NYT blogged back in 2007 that:
"Floods that happen every 100 years could come as often as every 10 years by the end of this century, Long Island lobsters will disappear and New York apples will be just a memory if nothing is done to reduce greenhouse gas emissions, according to a new report by the Union of Concerned Scientists."
2010 tied with 2005 as the warmest year in recorded history (since record keeping began in 1887). The weather all of last year was quite irregular. So what, you say ? Here is a chart put out by the BBC on world food prices: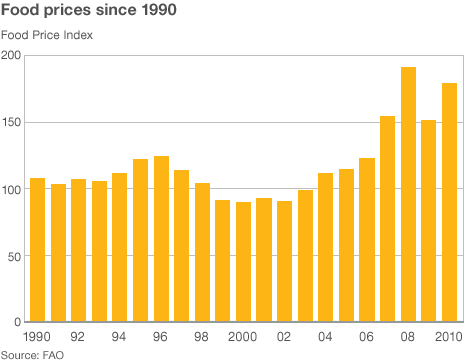 According to the article, titled "Q&A: Why food prices and fuel costs are going up":
"… in 2010, severe weather in some of the world's biggest food exporting countries damaged supplies.
That has helped to push food prices almost 20% higher than a year earlier, according to the FAO. (The 2010 figure was slightly below the annual measure  for 2008 as a whole.)
Flooding hit the planting season in Canada, and destroyed crops of wheat and sugar cane in Australia.
In addition, drought and fires devastated harvests of wheat and other grains in Russia and the surrounding region during the summer, prompting Russia to ban exports.
As a result, wheat production is expected to be lower this year than in the last two years, according to US government estimates."
Meanwhile, in the US, we voted Tea Party led Republicans to power and what have they started ? Attacking EPA and climate change regulations that they claim hurts business. Yahoo had an article titled "Congress Begins Assault on EPA's Climate Change Regulations". In Montana, there's talk of passing a bill that would declare that global warming is good for business! Discover, the popular US-based science magazine, said that the number 4 science story of 2010 was: "Climate Science Wins a Round, But the Campaign Goes Poorly". This was after the so-called climategate scandal, in which some conservative hackers hacked into University of East Anglia and retrieved more than 1000 emails that they said showed how scientists were distorting the evidence and that there was no scientific consensus on global warming. There was no evidence of distorting evidence, of course, but that didn't help the cause, especially in the US. Pew Research found that the percentage of Americans who believe that human activity is causing global warming fell sharply to 34% in 2010 from 50% in 2006. Only 13% of conservatives believe human activity as the cause for global warming.
As I ran, I wondered how we would come together on such a divisive issue. The US especially is so deeply anti-science and anti-global warming that I find it alarming. Even friends who seem to accept the problem, do little to change their lives to act in a way that reduces their carbon footprint. Of course, I'm no saint when it comes to reacting to global warming either. I may do a little, but there is not as much integrity or depth to my responses.
Last year, Time magazine carried an article titled: "Climate-Change Strategy: Be Afraid — but Only a Little". The article said that research by two Berkeley psychologists showed that: "when people are shown scientific evidence or news stories on climate change that emphasize the most negative aspects of warming — extinguished species, melting ice caps, serial natural disasters — they are actually more likely to dismiss or deny what they're seeing. Far from scaring people into taking action on climate change, such messages seem to scare them straight into denial. … The results, Willer and Feinberg wrote, "demonstrate how dire messages warning of the severity of global warming and its presumed dangers can backfire … by contradicting individuals' deeply held beliefs that the world is fundamentally just." (WEIRD warning alert, of course).
I think like recycling and driving less, some minimal actions that can help the cause is how we shop for food. Buy local produce. Avoid purchasing goods that have been produced and shipped from across the country or worse, from across the world. If you have farmers' markets, shop there, especially if you can afford it. Run the heater a little less in the house. Do these really help or are they only feel good actions ? I think that once we decide to factor carbon footprint and sustainability into our decisions, even just a little, there is a potential to affect a larger change. I also hear Gandhi's quotes, "Be the change you want to see in the world" and "My life is my message".
I finished my run in good time and my legs felt good. I was glad for the lull in the work schedule and the rain that I could go for a run. My mind harked back to the Derrick Jensen quote that I have written about: "We are really fucked. Life is still really good."