Blog Archives
This past weekend was a scorcher. It nearly broke some records. Read more »
A wise friend told me about the modern variation to the old adage about fishing and feeding. The new version goes like this: "Feed a man a fish and you'll have to feed him for the rest of his life. Teach a man to fish and he'll wipe out the fishes."
I thought this was catchy, but didn't know how true it was. Last week, via a link from kottke.org, I came across this shocking visual put together by David McCandless, author of a blog on the UK daily, The Guardian.
David explains the picture:
"This image shows the biomass of popularly-eaten fish in the North Atlantic Ocean in 1900 and in 2000. Popularly eaten fish include: bluefin tuna, cod, haddock, hake, halibut, herring, mackerel, pollock, salmon, sea trout, striped bass, sturgeon, turbot. Many of which are now vulnerable or endangered."
David explains another very crucial and chilling point, about memory and public policy. He says that most of us who're trying to protect these fishes don't even know how rich the seas were once upon a time, because we have no memory of them, the damage done before our generation was born. So, whatever policies we come up with are already poor. As W.S. Merwin wrote in the poem, Witness:
I want to tell what the forests
were like

I will have to speak
in a forgotten language
If you thought, well that is why I eat farmed fish, you're out of luck. Following a link from David's blog, I came across this 1 minute video that succinctly summarizes why eating farmed fish isn't better, it might be worse!
Eating Fish from Nigel Upchurch on Vimeo.
When Maya and her children question our carelessness and profligacy, the bereft land that we bequeath them, how shall we answer ?
Gray Whale
Now that we are sending you to The End
That great god
Tell him
That we who follow you invented forgiveness
And forgive nothing

I write as though you could understand
And I could say it
One must always pretend something
Among the dying
When you have left the seas nodding on their stalks
Empty of you
Tell him that we were made
On another day

The bewilderment will diminish like an echo
Winding along your inner mountains
Unheard by us
And find its way out
Leaving behind it the future
Dead
And ours
- A Coming Extinction, W.S. Merwin
We were socked with two big storms over the past two weeks. On the tail end of the first storm, we celebrated Maya's birthday for the first time in the US. We hosted the largest party we've ever held at our house. Some 20 odd people including kids showed up. Overall, the party was a success I'd like to think.
The next day we went for a hike. The air was crisp and fresh after the almost four days of continuous rain. Maya had been demanding that we take her to climb a hill and so we eventually did. Gray rain clouds still clung to the sky, but co-mingled with snow white clouds and great patches of blue sky. The whole thing was quite atmospheric (pun intended).
After I got the iPhone, I hardly take the regular camera any more. The iPhone does a pretty good job most of the time. It is only in really low light conditions that I have difficulty getting a good picture (the picture is too grainy). I purchased a couple of apps a few months back and that coupled with a free app enhance the photographs taken with an iPhone quite well.
The first one is called Pro HDR. It simplifies the technique of taking HDR pictures. HDR (high dynamic range) is a technique whereby you combine two photos taken with different exposures to obtain a single photo that uniformly lights all the subjects. For example, if you're shooting against the sun, the foreground is quite dark while the background is quite well lit. If you place the focus on making the foreground bright in such a condition, the background is too bright, a complete washout. But our eye can see both the background and the foreground quite well. To affect the same illusion, a HDR image is one that is created by combining two such images, one with the foreground dark and the background correctly lit and another with the foreground properly lit and the background a complete washout, to produce a single image that has a high dynamic range of illumination.
Pro HDR is one of the several HDR programs available for the iPhone. I picked it up on sale and because it was one of the higher rated HDR apps. With it I've captured several gorgeous pictures. Here is one taken on the hike with Maya up Rancho San Antonio County Park. Compare it with a similar photo taken without the HDR program.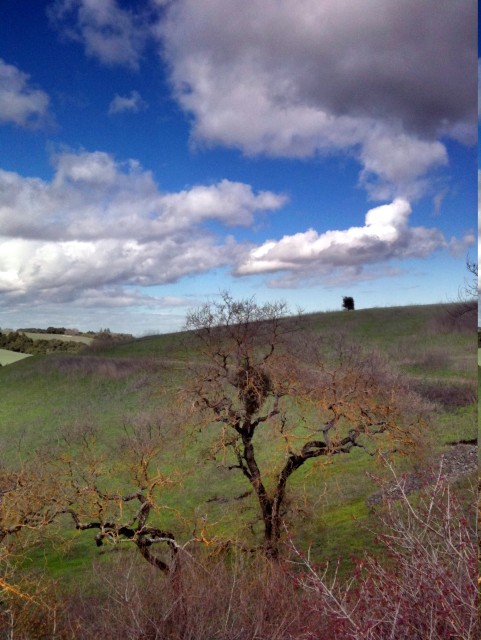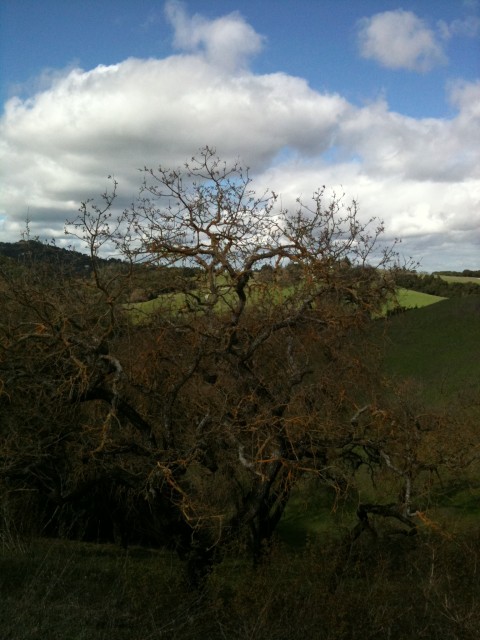 Here is another good looking picture taken with the HDR program.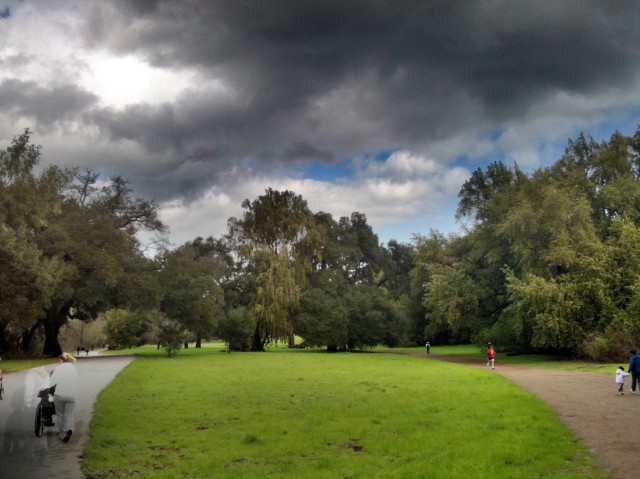 Notice the ghost at the far left, caused by an object that moved between the two differently exposed pictures.
Another program that I purchased is called 360 Panorama. This allows you to shoot panoramic pictures quite easily with an iPhone. When I had gone to my sister's graduation, I was impressed by a camera that my cousin had, the Sony Nex 5. He just pressed the shutter and fired away as he swung the camera in an arc across the auditorium. The camera automatically composed a panorama out of these pictures. Compare that to the panorama mode in most cameras that I had seen till then with the panorama stitch assist mode. A few days later I ran into the 360 Panorama app which does pretty much what the Nex did, except that it ran on my iPhone and cost $1.99 (yes, less than $2).
Here is a panoramic picture taken with this program.



As you can see, the picture is not that great because of the poor light conditions. I've come to realize that the more professional cameras are more forgiving of adverse light conditions and poor photographers while the cheaper ones or like the one with the iPhone produce great pictures under a limited range of lighting conditions.
Hardly had the first storm abated than the second storm hit. This one came with far greater expectations than the first. A cold front from Alaska was bringing brrrr! temperatures. Snow was expected, snow so rarely seen in this part of the world. The excitement built up so much that a website called  IsItSnowingInSFYet.com sprang up. The local paper carried the headlines:
"'Coldest storm of season' hits Bay Area; snowball fights in San Jose
still possible".
Sure enough, the temperatures dropped to record busting lows. Oakland and San Francisco Airport had their lowest temperatures recorded for the month (34 and 35 degrees Farenheit, I know nothing Arctic, but hey, this is Silicon Valley). Nearby Mountain View and San Francisco had temperatures that tied with the existing record. But no snow came. The local paper this time said: "The much-ballyhooed Great Blizzard of 2011 was more like the Great Fizzle."
But catching a break in the rain on a slow work day, I went for a trot on Friday morning. It was quite cold, but after a mile or so, I had warmed up enough to not notice it. I wanted to see Stevens Creek in spate.
The creek was a roar compared to its usual silent flow. In places where the path descended to the level of the creek, the creek looked like it'd overflow. The creek was a rich, chocolate milkshake brown, frothing white as it tumbled over rocks and sudden changes in gradient.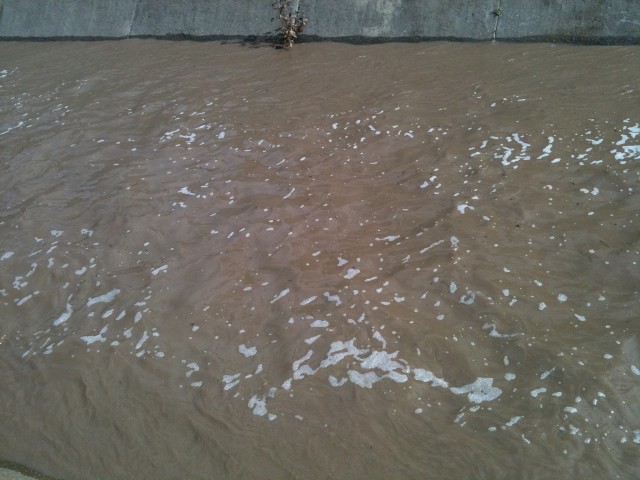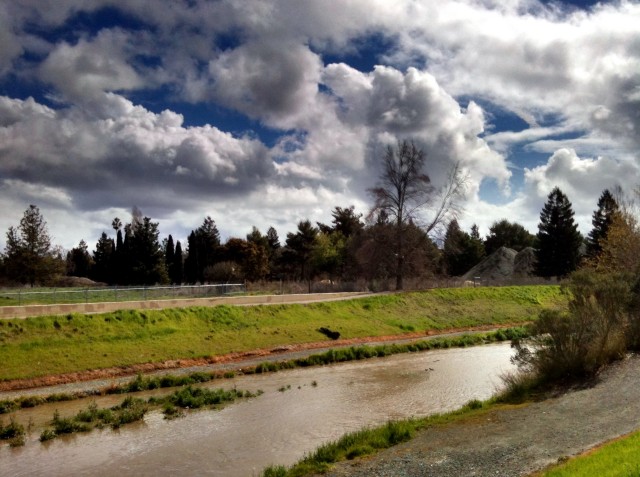 The second picture above is another image shot with the HDR app.
As I ran down the trail, my mind raced over some news that I had been browsing in the past few days. The East Coast of the US had been hit with one of the worst storms in its recorded history, Australia had suffered devastating floods. I remembered that my friend at the non-profit that I work with had titled an essay on how weather is affected by global warming as: "How the 100 Year Flood Became An Annual Event". If that sounds too dramatic, NYT blogged back in 2007 that:
"Floods that happen every 100 years could come as often as every 10 years by the end of this century, Long Island lobsters will disappear and New York apples will be just a memory if nothing is done to reduce greenhouse gas emissions, according to a new report by the Union of Concerned Scientists."
2010 tied with 2005 as the warmest year in recorded history (since record keeping began in 1887). The weather all of last year was quite irregular. So what, you say ? Here is a chart put out by the BBC on world food prices: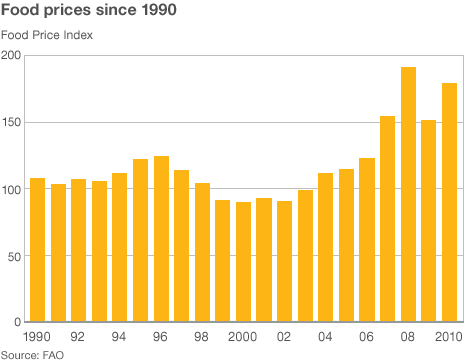 According to the article, titled "Q&A: Why food prices and fuel costs are going up":
"… in 2010, severe weather in some of the world's biggest food exporting countries damaged supplies.
That has helped to push food prices almost 20% higher than a year earlier, according to the FAO. (The 2010 figure was slightly below the annual measure  for 2008 as a whole.)
Flooding hit the planting season in Canada, and destroyed crops of wheat and sugar cane in Australia.
In addition, drought and fires devastated harvests of wheat and other grains in Russia and the surrounding region during the summer, prompting Russia to ban exports.
As a result, wheat production is expected to be lower this year than in the last two years, according to US government estimates."
Meanwhile, in the US, we voted Tea Party led Republicans to power and what have they started ? Attacking EPA and climate change regulations that they claim hurts business. Yahoo had an article titled "Congress Begins Assault on EPA's Climate Change Regulations". In Montana, there's talk of passing a bill that would declare that global warming is good for business! Discover, the popular US-based science magazine, said that the number 4 science story of 2010 was: "Climate Science Wins a Round, But the Campaign Goes Poorly". This was after the so-called climategate scandal, in which some conservative hackers hacked into University of East Anglia and retrieved more than 1000 emails that they said showed how scientists were distorting the evidence and that there was no scientific consensus on global warming. There was no evidence of distorting evidence, of course, but that didn't help the cause, especially in the US. Pew Research found that the percentage of Americans who believe that human activity is causing global warming fell sharply to 34% in 2010 from 50% in 2006. Only 13% of conservatives believe human activity as the cause for global warming.
As I ran, I wondered how we would come together on such a divisive issue. The US especially is so deeply anti-science and anti-global warming that I find it alarming. Even friends who seem to accept the problem, do little to change their lives to act in a way that reduces their carbon footprint. Of course, I'm no saint when it comes to reacting to global warming either. I may do a little, but there is not as much integrity or depth to my responses.
Last year, Time magazine carried an article titled: "Climate-Change Strategy: Be Afraid — but Only a Little". The article said that research by two Berkeley psychologists showed that: "when people are shown scientific evidence or news stories on climate change that emphasize the most negative aspects of warming — extinguished species, melting ice caps, serial natural disasters — they are actually more likely to dismiss or deny what they're seeing. Far from scaring people into taking action on climate change, such messages seem to scare them straight into denial. … The results, Willer and Feinberg wrote, "demonstrate how dire messages warning of the severity of global warming and its presumed dangers can backfire … by contradicting individuals' deeply held beliefs that the world is fundamentally just." (WEIRD warning alert, of course).
I think like recycling and driving less, some minimal actions that can help the cause is how we shop for food. Buy local produce. Avoid purchasing goods that have been produced and shipped from across the country or worse, from across the world. If you have farmers' markets, shop there, especially if you can afford it. Run the heater a little less in the house. Do these really help or are they only feel good actions ? I think that once we decide to factor carbon footprint and sustainability into our decisions, even just a little, there is a potential to affect a larger change. I also hear Gandhi's quotes, "Be the change you want to see in the world" and "My life is my message".
I finished my run in good time and my legs felt good. I was glad for the lull in the work schedule and the rain that I could go for a run. My mind harked back to the Derrick Jensen quote that I have written about: "We are really fucked. Life is still really good."
Cherry season is almost over. Last week at the farmer's market, most cherry vendors were hawking their wares with "Last week of sweet and juicy cherries". Since we started frequenting the farmer's market about eight or so years ago, about 90% of our vegetables and all of our fruits come from there. Living in a place that's blessed with pleasant weather just about the entire year, the availability of particular fruits and vegetables is how I've marked the changing of the seasons.
In the winter months and almost till May, citrus fruits, apples and grapes are the mainstay. Along with them but only in early winter are pears and pomegranate. While I avoid the sharply tart pomegranate, Shanthala devours them, dipping them in water to make them swell so that they can be popped more easily. I love the oranges in their myriad variety from the tiny mandarins to the small clementines to the large navel oranges. The varieties of oranges here are different from the ones that I've been used to in India. At the start of the season and towards the end, most are too sour for me to enjoy. For some reason, I hadn't relished apples as much till this year. The lack of good quality oranges this year made me turn to apples and I couldn't get enough of the red, juicy and sweet varieties while I avoided the green ones. Shanthala doesn't particularly relish the grapes here and so it doesn't figure much on our list. However, last season we found two varieties that were sweet and not as tart.
In tandem with the abundance of life that marks summer in this country, a profusion of fruits – cherries, nectarines, peaches, apricot, fig, blueberry, raspberry, blackberry, watermelon, cantaloupe and honeydew – are what marks summer for me. Cherries – Bing, Tulare, Brooks and Rainier – among the first fruit trees to ripen (the word cherry colloquially means "new" or "first"), are among the first to hit the market. California is one of the main producers of cherry in the US along with the other Northwestern states of Oregon and Washington. In those other states, cherries are available well into July while in California, cherry season closes by July. I love cherries so much, I'm positively upset when their short season is over. Cherry is the first fruit that Maya tasted. We peel the skin off one of the larger cherries and hold them in her toothless mouth. She loves slurping them, her face smeared with cherry juice and a big smile.
Around the same time as cherries come nectarines – yellow and white -, peaches – yellow and white too – plums, apricots and their hybrid cousins such as pluat (plum + apricot). I had never tasted peaches and nectarines in India. When I first tried some purchased from the supermarket, I disliked their tart and unsweet taste. When Shanthala spied them in the market, she purchased them despite my protests. Now, I love eating them. Among the berries, we love blueberries though they're quite expensive. Today I picked a quart for $11 !
In the middle of summer, come the cool, mouth watering melons, watermelon, cantaloupe and honeydew. Starting last year, real juicy and savory varieties became available at the Mountain View farmer's market. I don't recall seeing them the previous years. Shanthala's parents were here this time last year. We would purchase three of four cantaloupes and half a watermelon along with nectarines and peaches. The melons would all be gone by the middle of the week.
Autumn is marked when persimmons begin to make their appearance. Persimmons too were new to my palate. They're an orangish colored fruit, about the size of a tomato and firm as an apple that become soft as a tomato when ripe and possess a very unique flavor with an aftertaste like coconut. There are two varieties, the non-astringent Fuyu and the astringent Japanese persimmon. I love the Fuyu persimmons. The astringent variety are far more flavorful and even more coconuty in taste, but picking the right one and eating it when it is ripe enough to lose its astringency have caused us to mostly avoid them.
Strawberries are available year round though they're carried by a majority in the spring and summer. Other fruits such as figs are also available in summer but not in large quantities.
Some other fruits such as bananas are not locally grown at all, it seems. I came across a single farmer in Sunnyvale Farmer's Market selling bananas but they didn't taste very good. The bananas in the supermarkets come mostly from South America and Mexico. Mangoes are available only in the Indian stores and they come from Mexico mostly, though of late some come all the way from India. The Mexican variety is not as juicy, flavorful and aromatic as the Indian varieties, but nostalgia causes many of us to buy them anyway.
For people coming from outside the US, the fruits and vegetables here look very appealing. They're usually very attractive looking, possess a pleasing texture that promises abundant flavor and have a long shelf life. In short, they look perfect. It's when they're actually cooked that we realize that it's almost all just an appearance. There is a lot more water in the vegetables here, those in supermarkets have travelled far and have been ripened in factories rather than in the fields and many fruits are waxed to produce a shiny, smooth appearance. I remember an Italian friend once commenting that they don't make marinara sauce based pasta much because the tomatoes are so tasteless. I recall cooking tomato rasam once that tasted like poorly flavored hot water. when our families visited from India, they frequently complained that they had to change their cooking to suit the quality here, needing less time to cook and burning a little more easily and of course, not tasting as good as the ones they left back home. When we were in Portugal, shopping for our kitchen, I remember rejecting a whole lot of oranges saying that they looked poor and defective. Shanthala picked them all up saying, "These are the good ones. They'll taste rich just like the ones we used to enjoy back home".
In the fight against global warming, shopping local produce doesn't seem to figure as prominently as an act. Organic produce has a larger mind share than shopping local produce. While the farmer's markets at both Sunnyvale and Mountain View are quite crowded, I think the people there represent a very small minority. The produce available in the supermarkets here travel an average of 1300 miles ! They're not fresh when they arrive and most of them are tasteless compared to what we get at the farmer's markets. Many of them come from abroad, typically South America. In the book "Epitaph for a Peach", the author David Mas Masumoto writes of his struggles to keep his family farm going, producing a very juicy and savory version of the peach called Sun Crest peach. He writes of the peach: "When you wash the treasure under a stream of cooling water, your fingertips instinctively search for the gushy side of the fruit. Your mouth waters in anticipation. You lean over the sink to make sure you don't drip on yourself. Then you sink your teeth into flesh, and the juice trickles down your cheeks and dangles on your chin. This is a real bite, a primal act, a magical sensory celebration announcing that summer has arrived. … I'm told these peaches have a problem. When ripe, they turn an amber gold rather than the lipstick red that seduces the public. Every year the fruit brokers advise me to get rid of those old Sun Crests. 'Better peaches have come along', they assure me. 'Peaches that are fuller in color and can last for weeks in storage'".
For the first time, I did not enjoy good cherries this season except for what we purchased last week. It's possible that it's because we were frequenting Sunnyvale Farmer's Market more often than Mountain View's. Even nectarines and peaches were totally unsavory. "It's like eating a vegetable", declared Shanthala after biting into one a few weeks back. But last week, we went to the Mountain View market and struck gold with cherries and nectarines. I hope the abundance of good cherries and nectarines at the market is not a sign of local farmers caving in to the demands of the supermarket ! Because if they are, I'll lose one very sensual way of marking the seasons.