Blog Archives
Posted on November 7, 2011
Posted on October 10, 2011
The first winter rain has come and gone. Children in this country and in many parts of the Western Hemisphere are settled in to a new year of schooling. I was reading Barbara Kingsolver's "Animal, Vegetable, Miracle" when I ran across this passage:
Read more »
Posted on September 11, 2011
The story of my generation of Indian American immigrants is a blessed one.
Read more »
When it comes to ebooks, I find myself caught between a rock and a hard place.
Read more »
Posted on August 26, 2010
"However well you write about your family or friends, you diminish them."
I read this A.S. Byatt quote in an entry in one of The Guardian's culture blogs.
I write with some reserve when I write about my personal life. I'm especially sensitive when I'm writing about others. I usually don't name anybody but Shanthala and Maya, I occasionally refer directly to my parents, once or twice, I've said "neighbor", and I think that's it. For example, in my previous entry about the death of a colleague, I didn't name her (yes, I did reveal her gender) or my friends through whom I learnt about the death.
Even when I write about Shanthala or Maya, I think if what I write will embarrass them, if not today, some day in the future. When I put up pictures of other people, I usually check with them first, though I've been less diligent about that. However, I don't think that I have put up any possibly embarassing pictures of anybody except maybe myself (in which case, aren't they all embarrassing, you may ask).
A friend seemed to echo Byatt's sensibilities when he said that he wouldn't have written personal entries such as the one I wrote about the evolution of my relationship with Shanthala from our first encounter to our wedding. Another expressed a similar sentiment over my writings about my grief over Kitty's death.
I have benefited from reading about the experiences of other people. Joan Didion's "The Year of Magical Thinking" or C.S. Lewis's "A Grief Observed" provide invaluable insights into the land of grief. They wrote both intensely and intimately about their grief and their relationship. In books such as "Elegy For Iris", spouses write about what it is like to live with someone afflicted with horrifying diseases such as Alzheimer's and plot the frightening descent of brilliant minds into unmind. Rafael Yglesias, in "A Happy Marriage", documents intimate details of his marriage, both good and bad, in ways that illuminate the realities of a marriage. Kay Redfield Jamison writes about her struggles as a manic-depressive in "An Unquiet Mind". She writes that writing that memoir put her in a difficult situation many times, but many thanked her for bringing out of the shadows the life of a manic-depressive. Gandhi's "My Experiments With Truth" have helped me understand the perspective of this utterly unique individual.
What We Accept in Public Discourse
In the excellent, "The Consolations of Philosophy" by Alain De Botton, I was introduced to the ideas of the French essayist and philosopher, Michel de Montaigne. de Montaigne was a proponent of the fact that we're far from perfect and that this aspect of our lives should not be shut away in closets and only our seemingly rational, methodical and picture perfect self presented to the world as proper. One of his more famous quotes is "Kings and philosophers shit; and so do ladies". By stating front and center what people hitherto shied away from, he was bringing aspects of ourselves into discussion, and thereby out of the darkness. He wrote:
"The genital activities of mankind are so natural, so necessary and so right: what have they done to make us never dare to mention them without embarrassment and to exclude them from serious orderly conversation ? We are not afraid to utter the words kill, thieve or betray; but those others we only dare to mutter through our teeth."
Alain de Botton himself eloquently adds: "If we accord importance to the kind of portraits which surround us, it is because we fashion our lives according to their example, accepting aspects of ourselves if they concur with what others mention of themselves. What we see evidence for in others, we will attend to within, what others are silent about, we may stay blind to or experience only in shame."
When Maya throws a temper tantrum when we open the crayon box that she wanted to open herself, a tantrum that abates in an instant and she's smiling and happy, Shanthala and I worried about her. Are we raising her right ? Are we being too indulgent ? Is something the matter with her ? Then, when we talk to friends with kids of similar age and they tell us how their kids throw a similar tantrum over the shape of the pasta for dinner or not being allowed to pick the color of their milk bottle for the day, we heave a sigh of relief.
I could go on and on. The history of the autobiography is ancient even if the history of the memoir is somehow very 20th century (and early 21st). The world has changed in ways in which more and more people, even ordinary people, not just the rich and famous, have had the ability to get their narratives published. This has unleashed a glut of memoirs, many of which are tell-alls, meant to air dirty laundry in public rather than present a story or perspective of lasting value. As someone said, "We don't apologize any more, we just write memoirs".
But is there more to this sentiment than just personal views ? Is there some larger, more pragmatic consequence to writing about ourselves or framing ourselves publicly ?
The Age of Not Forgetting
Information on the web is around forever. With effective search engines such as google, it is not that hard to dig up information about a person if it was posted online. Many specialize in pulling together disparate pieces to construct a fairly detailed portrait of us. Those embarrassing pictures or midnight twitters stay around forever. NYT Magazine carried an article (when most of my news is read online and not on paper, is "carry" an uesful metaphor anymore?) about a month back titled "The Web Means the End of Forgetting".
The article begins with the story of a teacher in training, a Stacy Snyder, who posted on MySpace a picture of her toting a drink wearing a cap that said "Drunken Pirate". A supervisor at the high school she was training at found the picture, told her that she was promoting drinking and denied her a training degree. A federal circuit judge ruled against her case. The article cites other cases like Stacy's including an employee who was fired because she wrote that she was bored on her Facebook page and a Canadian psychotherapist who was denied entry into the US because an online search by the immigration official revealed that he had published a paper 30 years ago on his experiences with LSD. What is next ? Non-immigrants denied entry for blogging critically about the US or US policy ?
Here is a scarier quote from the article:
"According to a recent survey by Microsoft, 75 percent of U.S. recruiters and human-resource professionals report that their companies require them to do online research about candidates, and many use a range of sites when scrutinizing applicants, including search engines, social-networking sites, photo- and video-sharing sites, personal Web sites and blogs, Twitter and online-gaming sites. Seventy percent of U.S. recruiters report that they have rejected candidates because of information found online, like photos and discussion-board conversations and membership in controversial groups."

The article goes on to state the dawn of companies like ReputationDefender that will clean up your online profile for a fee and ideas like "filing for reputation bankruptcy". Jonathan Zittrain who reaches cyberlaw at Harvard speculates that in the future there will be companies like the financial credit rating firms, experian and equifax, that maintain the reputation rating of individuals. Here is his take as expressed in the article:
"Services like Date Check, Zittrain said, could soon become even more sophisticated, rating a person's social desirability based on minute social measurements – like how often he or she was approached or avoided by others at parties (a ranking that would be easy to calibrate under existing technology using cellphones and Bluetooth). Zittrain also speculated that, over time, more and more reputation queries will be processed by a handful of de facto reputation brokers – like the existing consumer-reporting agencies Experian and Equifax, for example, which will provide ratings for people based on their sociability, trustworthiness and employability."
But despite warnings by privacy advocates and reports such as this one, people in ever increasing numbers continue to share ever increasing information about themselves. Why do we do this ? While there are reasons posited for uninhibited behavior online, I wonder if in cases of normal behavior, there are other factors at play.
Nature: We are social animals and so the need to share is probably primal.
Distance and Time: We're moving farther and farther away from family members with each generation. Even friends are no longer a constant, past a certain age. And with the speed with which we live our lives, we have less time to engage socially with many of them. So, there is a need to share information with them by keeping them informed about our lives, something better than a once-a-year, Christmas postcard.
Ease Of Online Sharing: Internet provides a way to bridge that distance in a cheap and easy way. Before, I had to develop the picture that I just took of Maya, put it in an album and remember to show it to you when you visit the next time. Now, I just upload right off the iPhone or my digital camera, you're notified of the new picture and you can see it whenever you want. The ease also means that I don't have to think as much to post a picture online, promoting a "post first, think later" mindset.
Newness of the Medium: But, the newness of the medium prevents us from fully perceiving other possible effects of our desire to share. For example, if I was Stacy Snyder, I may put up a picture of myself on my Facebook page because someone thought that it was a cute picture of me and I wanted my dad to see it. I might not think that a supervisor at my school would find the picture and to top that, think that posting the picture meant I was encouraging underage drinking.
Ease of Discovering: When social sites such as Facebook make it hard to control what we want others to see and easy for others to spot us, we may inadvertently reveal more about ourselves than we care to. Also, before the onset of social media and Google, to know more about you, I had to know someone who knew you or knew someone who knew you. Now, it is easy to piece together a picture of someone using some quite basic tools.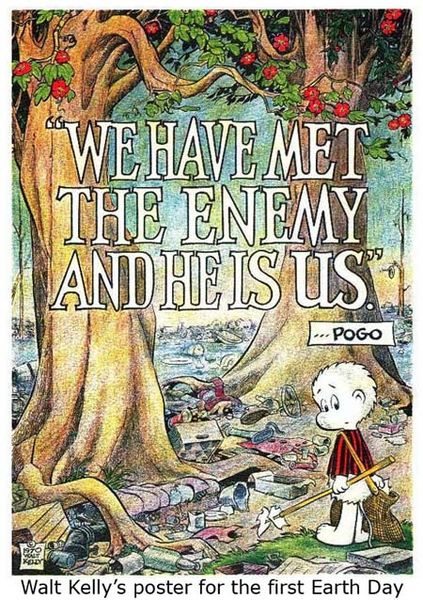 So, unwittingly, we've become our own paparazzi. Or to rephrase Pogo: "We've met the paparazzi and they're us".
The NYT article quotes, Viktor Mayer-Schönberger, a cyberscholar and the author of "Delete: The Virtue of Forgetting in the Digital Age", about the dangers of this new world:
"By "erasing external memories," he says in the book, "our society accepts that human beings evolve over time, that we have the capacity to learn from past experiences and adjust our behavior." In traditional societies, where missteps are observed but not necessarily recorded, the limits of human memory ensure that people's sins are eventually forgotten. By contrast, Mayer-Schönberger notes, a society in which everything is recorded "will forever tether us to all our past actions, making it impossible, in practice, to escape them." He concludes that "without some form of forgetting, forgiving becomes a difficult undertaking."
So, while I believe in writing candidly and on subjects that maybe painful or intensely personal, I exercise some restraint, cognizant that the web never forgets. But I don't try to write to blame or titillate. I try and write non-polemically, but can't say I succeed very well in that. But, I'm aligned with Michel de Montaigne's sentiments rather than Byatt's. I don't think my writing diminishes my friends or family, only rounds them, presents them and me and our relationship in a real, three dimensional way, underscoring our humanity.
Image credit: Wikpedia's entry on Pogo.