Prometheus. What a mess of a movie. I went in memory of the original Alien, a chilling movie, one that held up to a few repeated viewing over the years. But Hollywood has probably never produced a profoundly alien species. How alien can we make a species ? China Mieville's fascinating Embassytown has a truly alien answer.
I left science fiction behind with my teenage years. Arthur C Clarke's books and especially Asimov's Foundation and Robot series were a staple of my teenage reading diet. Once I got turned on by serious non-fiction, all fiction including science fiction lost their grip on me. I made a few half-hearted attempts over the years, but with the exception of Robert Sawyer's unusual and insightful Hominid series, never really managed to advance beyond a few pages. Even Robert Sawyer's other books disappointed because after a superb in hook and interesting science, the stories petered out. The only other one that left an impression was Octavia Butler's haunting and violent Parable of the Sower. Elizabeth Moon's Speed of Dark is classified as science fiction, but I wouldn't. Its one of the best books that I've ever read for the insight it provides into an unusual mind and into the profound insights of our own ways of thinking about the world. Most science fiction seem like the usual stories but set in the future and in some distant reaches of space. Stories that were hard science fiction I found too dry (such as Kim Stanley Robinson's Mars Trilogy). I suspect these self-imposed constraints probably skipped some very good books, nevertheless they didn't engage me, including many Hugo and Nebula award winners on quite some fascinating subjects.
So, with my current fiction streak still fairly strong, I returned to science fiction. Despite the dry, flat characters, I found Poul Anderson's Tau Zero brilliant and engrossing read. It captures the horror of mundaneness of space travel brilliantly among other things. Leaving for India a couple of weeks back, I impulsively picked up China Mieville's Embassytown. As an ebook from the library, it was a weightless (and therefore thoughtless) addition. But what a serendipitous pick it turned out to be!
The hook that drew me in was that ideas about language held center stage. Earlier this year, I tried reading the famous Babel 17, a book in which Earth is under attack by an alien species whose language is a far more accurate representation of reality than our own languages are. And this gives the aliens special powers that we humans lack. The protagonist is a female linguist (a Noam Chomsky meets Indiana Jones, but the book was published in 1966) who first suspects that the mysterious sounds heard before the attack is not code, but a new language. A code is merely the same ideas expressed in different semantic symbols, she says. Once you crack the code, you have everything. But a language is not a code. It can embed a completely different way of knowing and understanding the world.
While everyone else is trying to crack the signal as a code, she tries to understand it as a language. As a linguist, she knows many languages and the way they express ideas. So she uses her knowledge to get out of certain tight spots because her attempting to express her condition in some of these different languages carries with it the solution to the predicament she's in. It may sound corny or far-fetched, but they're not. Here is a passage from the book that describes her looking at the problem in a new way (thanks to http://besser.tsoa.nyu.edu/impact/f93/students/tracy/tracy_midterm.html):
Locked into English, Rydra awakens to a certain reality – she is trapped in a strange restraining web. In desperation she switches in her thoughts to the language Babel-17, which she has partially mastered: "She looked down at the – not 'webbing' but rather a three particle vowel differential, each part of which defined one stress of the three-way tie, so that the weakest points in the mesh were identified when the total sound of the differential reached its lowest point." The perspective afforded by the new language enables her to see the weakness of the webbing: "By breaking the threads at these points, she realized, the whole web would unravel". Switching to another language creates another reality: Rydra is able to free herself."
The story was engrossing enough for a while and then for whatever reason, I discontinued it. I'll probably return to it shortly.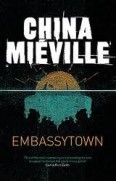 If that book carried in it the seed that a language that better expresses reality grants its inventors amazing powers, the aliens in Embassytown have to deal with the dark side of possessing a language that is reality. Embassytown is a city, an Earthly embassy set at the edge of the known universe. It is on a planet where the aliens are dual-person creatures that are separated in body, but united in mind. They speak together, each expressing one half of an idea. Mieville represents this using the fractional notation. For example, science fiction is written as science/fiction, roman holiday as roman/holiday. Of course, the aliens don't understand roman holiday or science fiction.
The humans who first arrive on this planet decipher the language of the aliens quickly but find that despite making the right sounds, the aliens cannot understand them. They're puzzled why this is so and struggle for a while. After a while they realize that for the Ariekei, language is not just the sounds, but there has to be sentient being behind the sound for them to make any sense.
This alien-ness of the Ariekei illuminated the extent to which we are a symbolic species. Our language is a referent or a signifier. When I say hot and you say hot, I truly cannot know if we're experiencing the same thing. That's because the sound we produce is only indicative of the experience, it is not the feeling itself. For the Ariekei, this distinction does not exist. The sound of "hot" has to be uttered by a being that has experienced the feeling that the sound implies. The Ariekei can comprehend only then what the speaker is saying and communication is accomplished. As one of the characters says in the book:
"Does it ever occur to you that this language is impossible, Avice?" he said. "Im, poss, ih, bul. It makes no sense. They don't have polysemy. Words don't signify: they are their referents. How can they be sentient and not have symbolic language? How do their numbers work? It makes no sense."
Telepathy is unfettered access to another's mind. Our language is how we allow someone else to comprehend what is going on in our minds. Language is how the Ariekei provide access to their minds to others, but unlike our symbolic access, their access is direct. Can such a mind perceive a lie, nay conceive a lie ? What kind of a world can the Ariekei construct with such a consciousness ? What limitations do they face with such a language ? As if an objective reality or Truth with a capital T exists, their language is called Language. But even with such a language, the reality they experience is not the reality that human beings experience. Our consciousness is embodied and the reality we can comprehend is therefore limited by our bodies and the consciousness that such a body can produce. This is science, humanity and the construction of culture at its best.
What draws me into most fiction is when it illuminates such aspects of humanity that are at the core of who we are, and especially a core that I'm interested in. A simple example: the book illuminated a point about metaphors that I hadn't thought of before, especially since metaphor has most recently been such a hero. One of the characters in the book says:
"Simile spells an argument out: it's ongoing, explicit, truth-making. You don't need  …   logos, they used to call it. Judgement. You don't need to  …   to link incommensurables. Unlike if you claim: 'This is that.' When it patently is not. That's what we do. That's what we call 'reason,' that exchange, metaphor. That lying. The world becomes a lie."
Mieville is known for his brilliance in constructing complete new worlds and with their own alien experience. This book is no different. Space travel is accomplished by traveling through immer, which without further description, seems like the equivalent of hyperspace of traditional science fiction novels. He writes of the immer and its travelers, the feelings that such travel evokes, the experience of it, by describing it the way sailors might describe seafaring. There are lots of words that are not explained but which is left to the reader to infer, words like miab and biorigging. At first, the experience is much like being at sea. I found myself tossed around trying to make sense of what was going on. But the motion sickness soon passed and the experience he creates made the suffering worthwhile. People who know European languages may recognize that some of these new words are drawn from these languages.
Embassytown is governed by Ambassadors who're specially created human beings who can speak to the Ariekei. The whole world of their creation, the side effects of this process and the effect on these very human Ambassadors is slowly revealed during the course of the novel.
The book begins with the arrival of a new Ambassador. Unlike all the other Ambassadors who're born in Embassytown itself, the new Ambassador comes from the capital of the country that Embassytown is a part of. This Ambassador does something that starts an incredible chain of events that could destroy  the Ariekei, and even Embassytown. The narrative arc, the suspense and the story is created around this very significant event. What the ambassador does is not a cliche, a plot twist that is easy to anticipate.
Novels like Embassytown and Babel-17 base their stories around the Sapir-Whorf hypothesis which states that the language we use is a constraint on how we perceive the world. A very strong form of the hypothesis states that we cannot perceive a world outside the language we create. Linguists are now beginning to accept the possibility that the language does impose strong constraints on how we think and perceive the world, and that its a lot of work to step outside this constraint.
China Mieville is a young British author who's decided to write a novel in each genre. So far, he's written science fiction, fantasy, a police procedural, a children's book, academic books and papers with such titles as ""Anxiety and the Sidekick State: British International Law after Iraq" in the Harvard International Law Journal.
I highly recommend Embassytown for a mind-bending read.
Other interesting reviews of the book from mainstream press: